6 Megapixel Industrial HD Quality IP Camera System for Wireless Standalone Live Remote Monitoring and Time Lapse Recording
Utilising a solar powered 3G/4G-LTE internet connected system with a high end IP camera. The Commando is a 24/7 site monitoring tool that is ideal for multiple use applications such as uploading time lapse images to a web server while also providing a live online site monitoring tool that has images that can be available to many stakeholders or direct to the public.
This system combines our highest resolution 6MP IP camera with a 24/7 solar power system and a 4G internet connection to produce the ultimate fully stand alone camera system. These systems are used in applications such as asset monitoring systems, wildlife research and pest control, construction projects for time lapse recording, remote mointoring and online display of progress images. These systems can also be used for public infrastructure locations such as roads, railways, waterways and public places of interest as well as agriculture and mining applications.
With the rapid development of wireless 3G and 4G broadband internet, supported by today's affordable solar energy solutions, these industrial grade camera systems can be rapidly deployed to any location. To compliment these technologies we utilise a premium high definition web camera with extensive multi-stream functionality. The quality of the camera and the images it produces revolutionises the use of webcam applications.
Our camera systems can be accessed remotely for real-time live viewing via the mobile phone networks. In addition to this we also include a fully customisable image viewing website platform for viewing static images that have been uploaded by the camera. This is ideal for presenting images to a wide audience without needing to provide direct access to the camera.
System Includes:
Ultra high definition IP Camera 6 Megapixel 3072x2048 px resolution
Dual solar panels, and industrial power control system for 24/7 applications
100Ah battery included, (or supplied without battery for international customers).
Industrial grade wireless 4G-LTE modem/router with fallback to 3G.
High gain base station 4G/3G broadband antenna for improved reception
WiFi 802.11b/g/n 150Mbps connectivity also included for local wireless access
Digital timer control for advanced power management and reliability
Steel weather proof lockable case and universal mounting brackets for flexible installation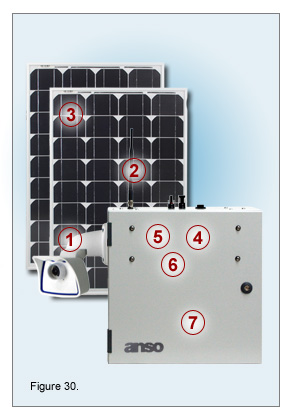 1. Ultra high definition 3072x2048px Multi-Stream single interchangeable lens outdoor camera delivering stunning resolution in extreme conditions. 15 frame per second full resolution streaming video (bandwidth and power permitting). The multi stream system will allow multiple simultaneous image/video stream settings for simultaneous applications.
2. Industrial grade 4G-LTE mobile broadband network modem/router with fallback to 3G for upload of images to your web server or email, as well as to remotely access the camera system, manage image capture, motion detection and image profile configuration and to retrieve internally stored images and video.
3. High gain 5dBi multiband low profile 4G-LTE/3G external antenna with operational bands of 700/800/900/1800/1900/2100/2400/2600 MHz servicing all global cellular frequencies for extremely versatile connectivity range.
4. Two high quality mono-crystalline solar panel. High efficiency, long life, heavy duty panel frame for exposed conditions with UV stabilised outdoor rated cables and connectors.
5. Microprocessor controlled power management and charging system. Three stage Bulk, Float and Absorbtion charging with internal LCD display of incoming panel voltage and current, internal battery voltage and average daily current and voltage input.
6. Second stage load timer to more efficiently manage internal power usage or limit times for internet connectivity. Industrial power resource reliability for long term time lapse projects and permanent remote monitoring applications. This system allows for the powering up and down of camera and communications within the unit while charging systems continue uninterrupted. 7 day fully programmable digital timer, with up to 8 separate programs per day and separate battery backup for complete program reliability.
7. Universal mounting brackets to fit multiple variants of U-bolts and brackets and can also be used for bolting directly into timber or can be clamped using threaded rod around a square pole. We can also provide customised mounting hardware to suit your application to attach the universal mounting brackets directly to your specific pole or structure.
8. External PV Connectors for the solar panel positive and negative leads to plug directly to the unit with IP67 rated outdoor weather resistant connectors.
9. Heavy Duty Steel Outdoor Enclosure with nylon seal washers. Filtered air intake (multi stage) with moisture catch chamber and easily changed internal filters. Optional keyed lock for improved tamper resistance.
M Series 6MP Camera - Fixed Interchangeable Lens Options

Wireless Broadband 4G-LTE/3G Internet Connectivity
The integrated 4G-LTE/3G modem/router enables the system to be installed to any location where a wireless broadband internet connection can be accessed without the requirement of a fixed line internet service. Redeployment of the system is as easy as unmounting the system and remounting in the new location.
Experience remote access monitoring with real-time live stream viewing from any internet connection utilising a dynamic DNS service to automatically stay linked with your dynamic system IP address. Remote access allows you to view the live video stream, modify event settings and system configuration or access the onboard SD card storage directly from your web browser.
We will assist you to setup a Telstra Mobile Data Sim and configure your Dynamic DNS service as part of the system setup. Fully pre-configured and tested prior to delivery to enable you to simply mount the system and turn it on and achieve complete instant functionality.
Upload timed sequential images directly to our web hosting servers via the wireless internet connection. We include 12 months of free web hosting per camera system which includes 3GB of disk space and 15GB of bandwidth per month worth $500 p/a. The multiple event settings in the camera allow you to also simultaneously upload a copy of all images to your own web server via FTP as well as store a copy of the images onboard the internal SD card. Set video motion detection triggers to record video to the local storage, while also uploading images to web for online viewing and sending email notifications with image attachments.
The extensive versatility of configuration options with multiple simultaneous image/video streams and event settings makes these camera systems suitable for a wide range of applications such as construction time lapse recording, live remote project monitoring, online stakeholder involvement, remote research and environmental projects, government infrastructure monitoring, waste dumping prevention and offender identification, remote security monitoring, bush fire and flood warning systems, remote farming and crop management or tourism promotion such as online snow and beach cameras.
Battery Powered with Solar Recharge
To enable a fully self sustainable system we have incorporated a solar powered battery and controller system to recharge the battery during daylight hours while the camera and system is in operation.
This is an ideal solution for remote location monitoring where access to an existing power source may not be available, and prove to be excellent for situations such as green field construction projects or where a camera position may need to be altered periodically without needing to relocate the connection to a power supply.
Eliminating the need for connection to an existing power source reduces the logistics and expense of organising power to your camera location and in many cases makes it possible to deploy a remote camera system to remote locations where power is simply unavailable.
Complete Integrated Online Solutions
Included with every camera system is a Website Image Viewing Platform pre-installed on your free web hosting account for 12 months. This will automatically load your latest images into an easy online viewing interface behind a secure login. This is a fully functional CMS website platform customised for image management. Ideal for easily viewing images from multiple cameras and for displaying a sequence of images to multiple online stakeholders. Displaying a sequence of images provides a powerful online tool at your disposal to see change through the images as they are uploaded instead of just viewing a single image of the current view.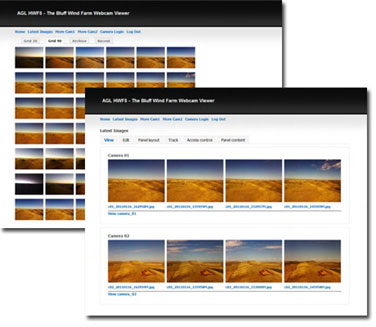 All images uploaded to our web servers can be downloaded via your cPanel Web Hosting Interface. You have full access to download the raw images and all media uploaded to our servers belongs to you. We will also backup your data to offline storage for long term data retention to keep online storage space available. All data stored on our offline servers remains solely your property and is available by request free of charge.
We do not just provide hardware, but aim to provide you with a complete solution consisting of industrial remote camera system hardware as well as premium web hosting with a stand alone customisable image viewing web platform for a full function online package that is easy to install and customise remotely to maximise your return on investment. There are no restrictions on system configuration, you can utilise our included hosting and web platform solution or you can configure the systems to your own requirements and utilise your own online infrastructure.
Read More about our included Image Viewing Website Platform
We are specialists in remote camera system hardware and highly experienced in web development and custom online solutions. We can customise our solutions for large corporate organisations and government departments as well as cater for international client requirements.
Anywhere, anytime, this Solar Powered Wireless 4G Internet IP Camera System can be installed easily and quickly and is dependent only on having unobstructed exposure to the sun and receiving a wireless 3G or 4G internet connection to it's location.
The amazing functionality and extensive configuration versatility means the possibilities for use are only limited by your creativity and imagination.