Highest quality 6 megapixel IP camera designed for use in the most challenging applications and extreme outdoor environments. This camera boasts Ultra High Definition 6 Megapixel (3072 x 2048 px) resolution, allowing for the delivery of extremely detailed images and coverage that is over 20 times larger than a standard VGA CCTV camera.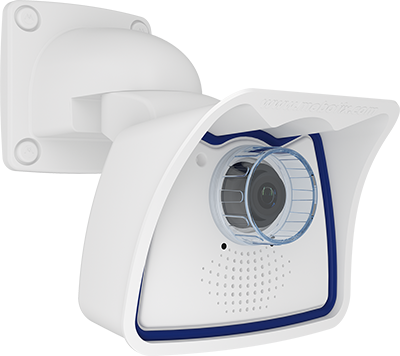 Available with various interchangeable fixed lenses to select the field of view that is suitable for your application. Choose from seven different lenses from a super wide 103 horizontal view down to a telephoto 8 horizontal view for distance applications. There is a lens to suit all applications.
With highly advanced configuration options such as custom image profiles, extensive exposure control and complex event capture programs, this camera also includes leading IP camera advancements with the latest in ultra low light moonlight image sensor technology and activity sensor video motion event triggers. 
Multiple imager/video streams can be delivered simultaneously in different resolutions, frame rates, and image qualities for viewing on different platforms so as to meet different needs or bandwidth constraints. This enables digital manipulation of the live viewing window while keeping the other image profiles set for active event capture.
The IP camera of choice for the most extreme locations around the world from mountain tops, to tropical rainforests or arid desert conditions, this camera can do it all.
Features
6 Megapixel resolution (3072x2048 pixels)
1/1.8" CMOS progressive scan
Interchangeable lenses: choose from horizontal  103°, 90°, 60°, 45°, 31°, 15°, 8°
Light Sensitivity: 0.1 lux (t=1/60 s), 0.005 lux (t=1/1 s)
Microphone and speaker with full audio functionality (VoIP and SIP telephony with video)
Custom image profiles, colour and exposure control
Backlight compensation, automatic white balance, image distortion correction 
Video motion detection, Video Activity Sensor
Multiple FTP & Email profiles with NAS & SD event storage
Internal DVR with included internal 32GB Micro-SD, recording without network load
Robust, low-maintenance and weatherproof from -30 to +50 °C (-22 to +122 °F), (IP66)
Digital continuous zoom, pan and tilt
Web Browser live viewing, configuration and local event storage access
Alternative Camera Models
 

 

Dual Lens Thermal

Thermographic lens for 24/7 detection with a 6MP colour lens for identification.

Temperature measuring range of -40 to +550°C

 

Hemispherical 180º

High resolution 180º widescreen panorama with auto image correction

 

CS Vario

Adjustable variable CS Vario Lens 

73°-37° H x 158°-28° V

at 10m
14.8 - 6.7 x 11.1 - 5.0m