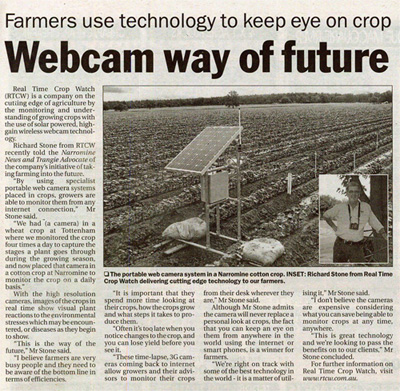 ANSO Web Camera Systems opening new possibilities, and the feature of this recent article.
Real Time Crop Watch (RTCW) is a company on the cutting edge of agriculture by the monitoring and understanding of growing crops with the use of solar powered, high gain wireless webcam technology.
Richard Stone from RTCW recently told the Narromine News and Trangie Advocate of the company's initiative of taking farming into the future.
"By using specialist portable web camera systems placed in crops, growers are able to monitor them from any internet connection," Mr Stone said.
"We had (a camera) in a wheat crop at Tottenham where we monitored the crop four times a day to capture the stages a plant goes through during the growing season, and now placed that camera in a cotton crop at Narromine to monitor the crop on a daily basis."
With the high resolution cameras, images of the crops in real time show visual plant reactions to the environmental stresses which maybe encountered, or diseases as they begin to show.
"This is the way of the future," Mr Stone said.
"I believe farmers are very busy people and they need to be aware of the bottom line in terms of efficiencies.
"It is important that they spend more time looking at their crops, how the crops grow and what steps it takes to produce them.
"Often it's too late when you notice changes to the crop, and you can lose yield before you see it.
"These time-lapse, 3G cameras coming back to internet allow growers and their advisors to monitor their crops from their desk wherever they are," Mr Stone said.
Although Mr Stone admits the camera will never replace a personal look at crops, the fact that you can keep an eye on them from anywhere in the world using the internet or smart phones, is a winner for farmers.
"We're right on track with some of the best technology in the world - it is a matter ofutil-ising it," Mr Stone said.
"I don't believe the cameras are expensive considering what you can save being able to monitor crops at any time, anywhere.
"This is great technology and we're looking to pass the benefits on to our clients," Mr Stone concluded.
For further information on Real Time Crop Watch, visit www.rtcw.com.au.




PHOTO: The portable web camera system in a Narromlne cotton crop. INSET: Richard Stone from Real Time Crop Watch delivering cutting edge technology to our farmers.